Download Click here for more information.から
Satisfaction over 94%!
■

Enjoy with sound

Moomin monogatari, Ltd.

~ A new type of experience attraction ~

*From March 2021th to May 3st, 14.From the results of a questionnaire conducted by our company during the trial period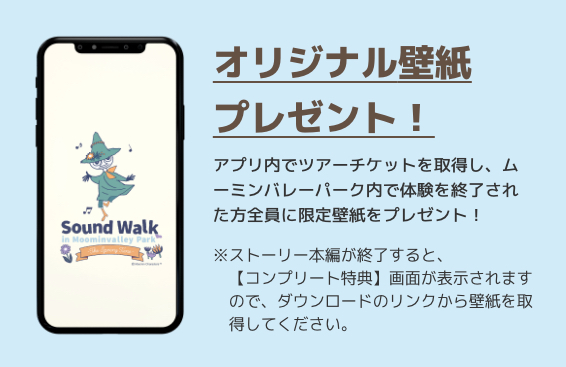 STAFF & VOICE CAST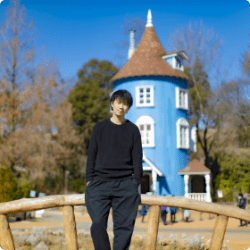 Direction / Screenplay
Ryo Oguri
RYO OGURI
The role of Snufkin

Takahiro Sakurai

TAKAHIRO SAKURAI

Moomintroll role

Haruka Tomatsu

HARUKA TOMATSU

Narration /
The role of Ti Wu

Hanae Natsuki

NATUKI HANAE
Experienceable time
Experience duration: about 45 minutes Until 1 hour before closing of Moominvalley Park
You can experience it.
Entry fee
It is an in-app purchase type paid attraction.
One tour ticket 1 yen (650 coins)
After the tour ends, you can return to the park again.
In order to experience it, you will need to purchase coins again.
.
Even after the experience in the park is over, you can play back the audio and look back on the experience.
Available
OUR STORY
Snufkin travels freely on his own, and is warming up a new song-Shirabee.Shirabe was inspired by the murmuring of a stream, all the sounds of the natural world, such as the wind and birds, and an encounter with an unnamed crawling bug...
What kind of "search" will it be?
What is a sound walk?
In the midst of nature-rich Moominvalley Park, Sony's cutting-edge technology creates a new sensational sound experience, and an attractive voice cast spun together. It is a sensory experience attraction.We are designing a tour that you can safely experience with your smartphone and earphones/headphones so that you can enjoy walking around the park at your own pace.
To enjoy the sound walk
In order to enjoy the app, it is necessary to acquire the location information of the device and app, and enable Bluetooth.
Step 1

First download Locatone ™

First, download Sony's Locatone ™ app from the Apple Store, Google Play on your smartphone.

Operation is not guaranteed for iPad and wi-fi model tablet devices.

Step 2

Select a channel

From the Locatone ™ app, select "Moominvalley Park Channel".

Step 3

Tour selection

Select "Sound Walk-Spring Search-" from "Moominvalley Park Channel".

Step 4

Download tour data

Download the tour data from the download button.

Step 5

Get a tour ticket

From the button to get the ticket

Tour tickets and acquisition.

*If you do not have coins, please purchase coins from the coin purchase screen.

Step 6

Reconfirm before departure

On the day of the attraction, fully charge and with a smartphone

Don't forget to connect earphones / headphones!

Step 7

Start when you're ready

When you arrive at the site, press the tour start button to start the tour.You can hear the voice when you visit the spot ♪
* After downloading the app and tour data, turn off Wi-Fi and start the tour locally.
(If you leave Wi-Fi connected from the outside, weak radio waves may be picked up and communication may become unstable.)
How to buy in-app coins
Tour tickets can be obtained by purchasing the necessary "coins" in the app and exchanging "coins" for "tour tickets".

Step XNUMX

Move to the coin purchase screen

Click the "Purchase" button to move to the coin purchase screen.

Step 2

Buy coins

When you press the amount of coins you want to purchase, the payment process for each App Store / Google Play will be executed and the purchase will be completed.

Step 3

Exchange coins for tour tickets

You can get a tour ticket by spending coins.
Remarks
● App Store item sales prices are based on exchange rates set independently by Apple Inc, and are subject to change without prior notice. ●In order to enjoy the Sound AR™ experience, please download the Locatone™ app and the tour data for "Sound Walk -Haru no Shirabe-" in advance. ●When using the Sound AR™ experience, please prepare earphones/headphones that can be connected to your smartphone in advance. ●Because the attraction experience time is about 45 minutes, please check the battery level of your smartphone. ● "Sound AR™ and Locatone™ are trademarks of Sony Group Inc. or its affiliates.
Return to event list