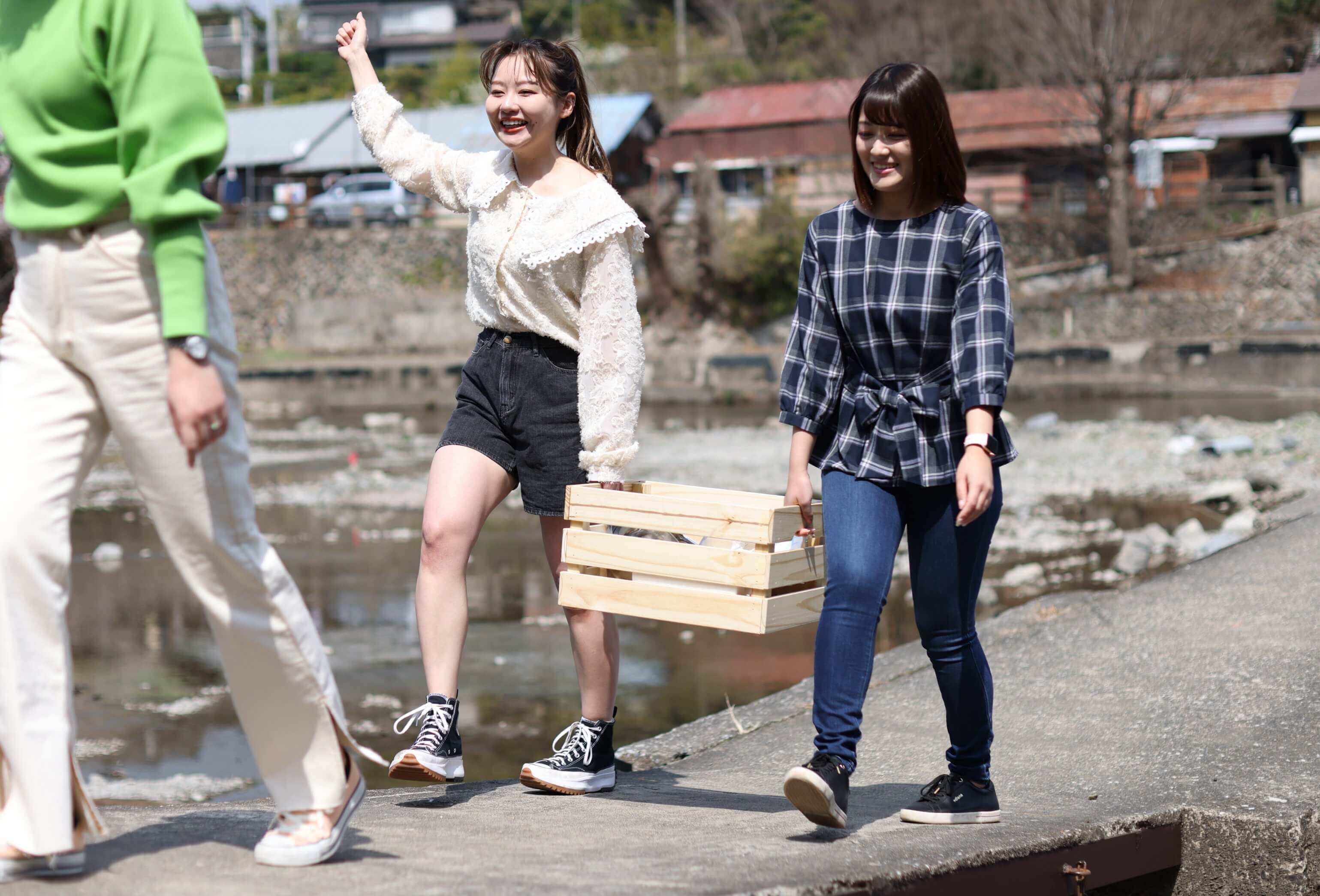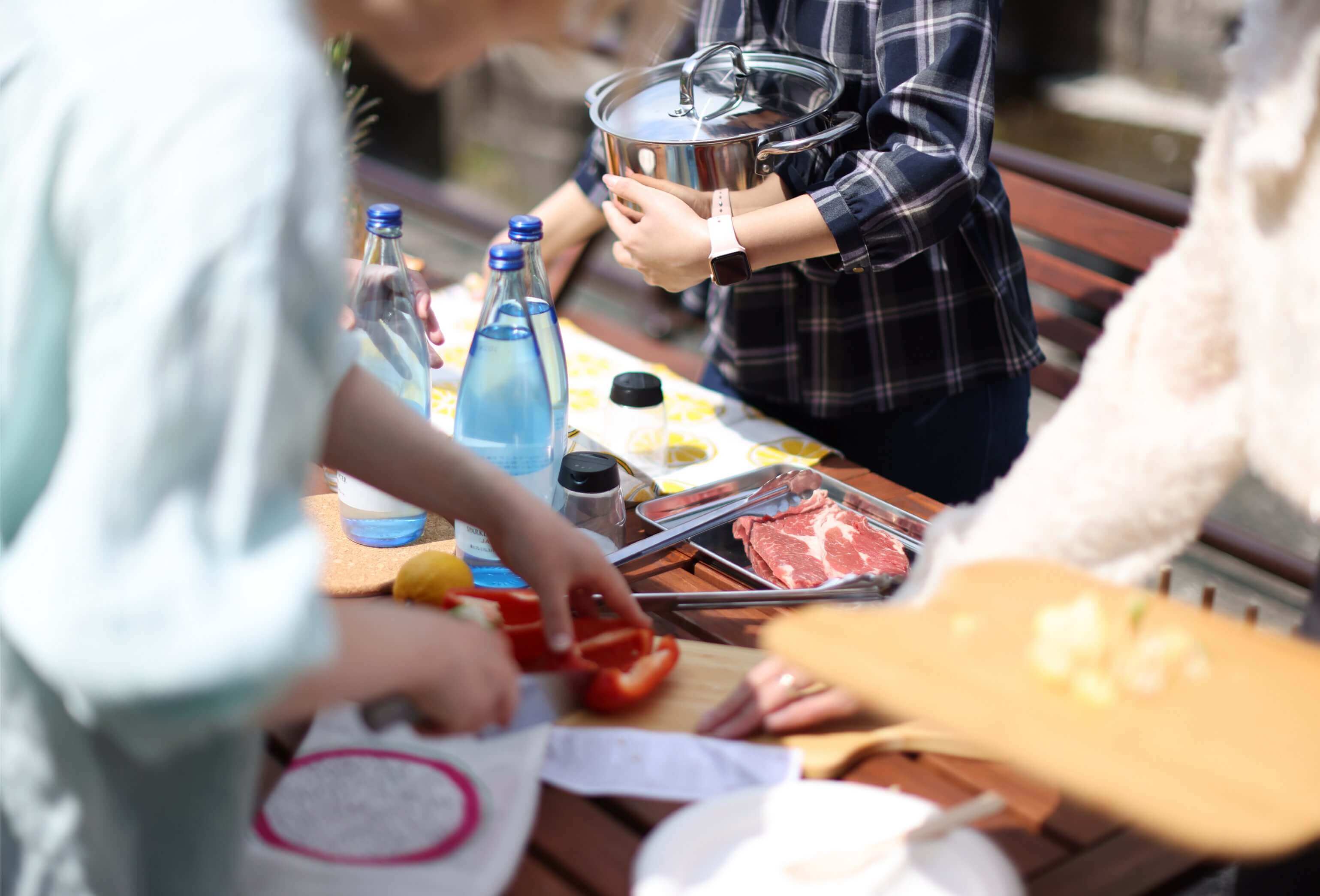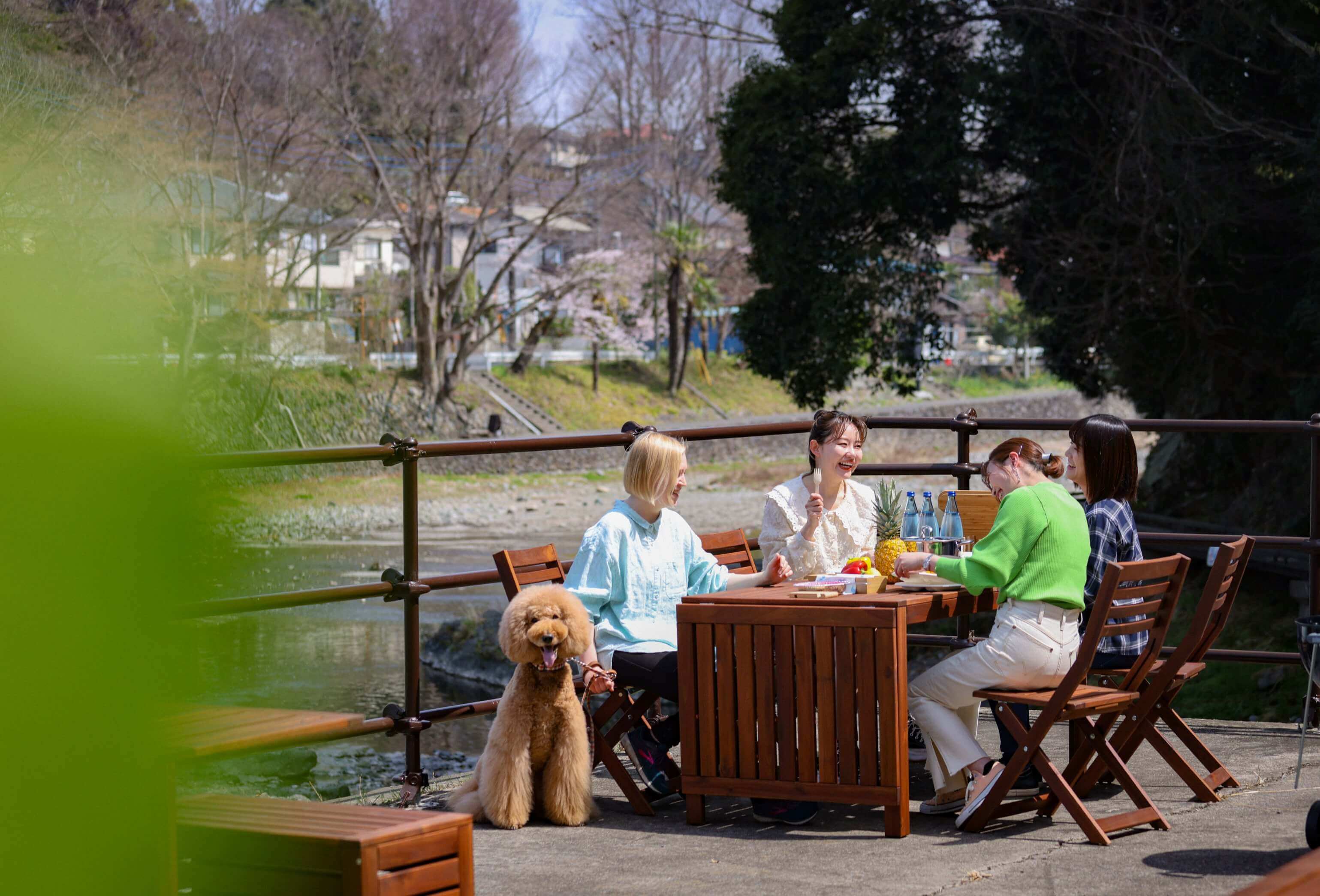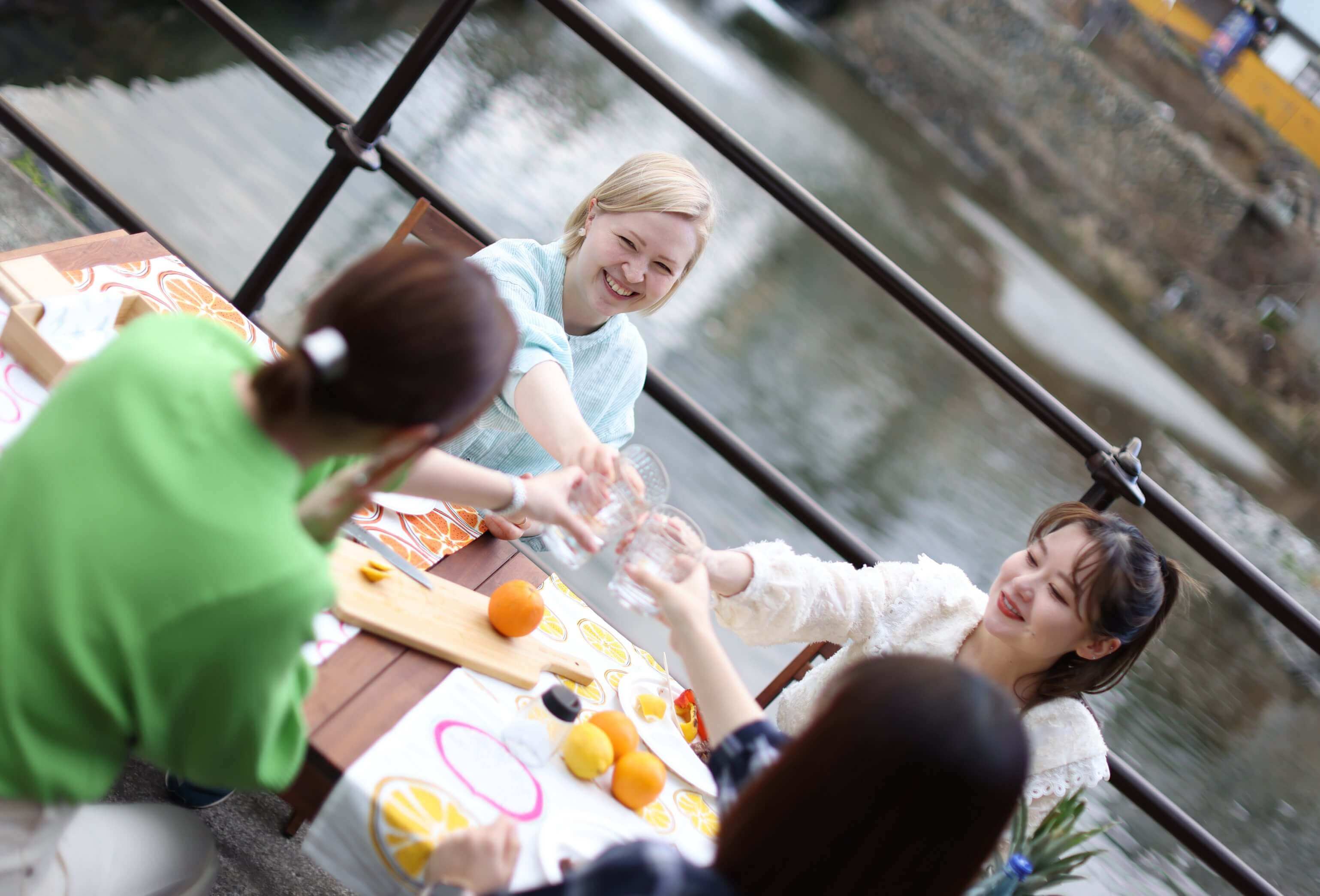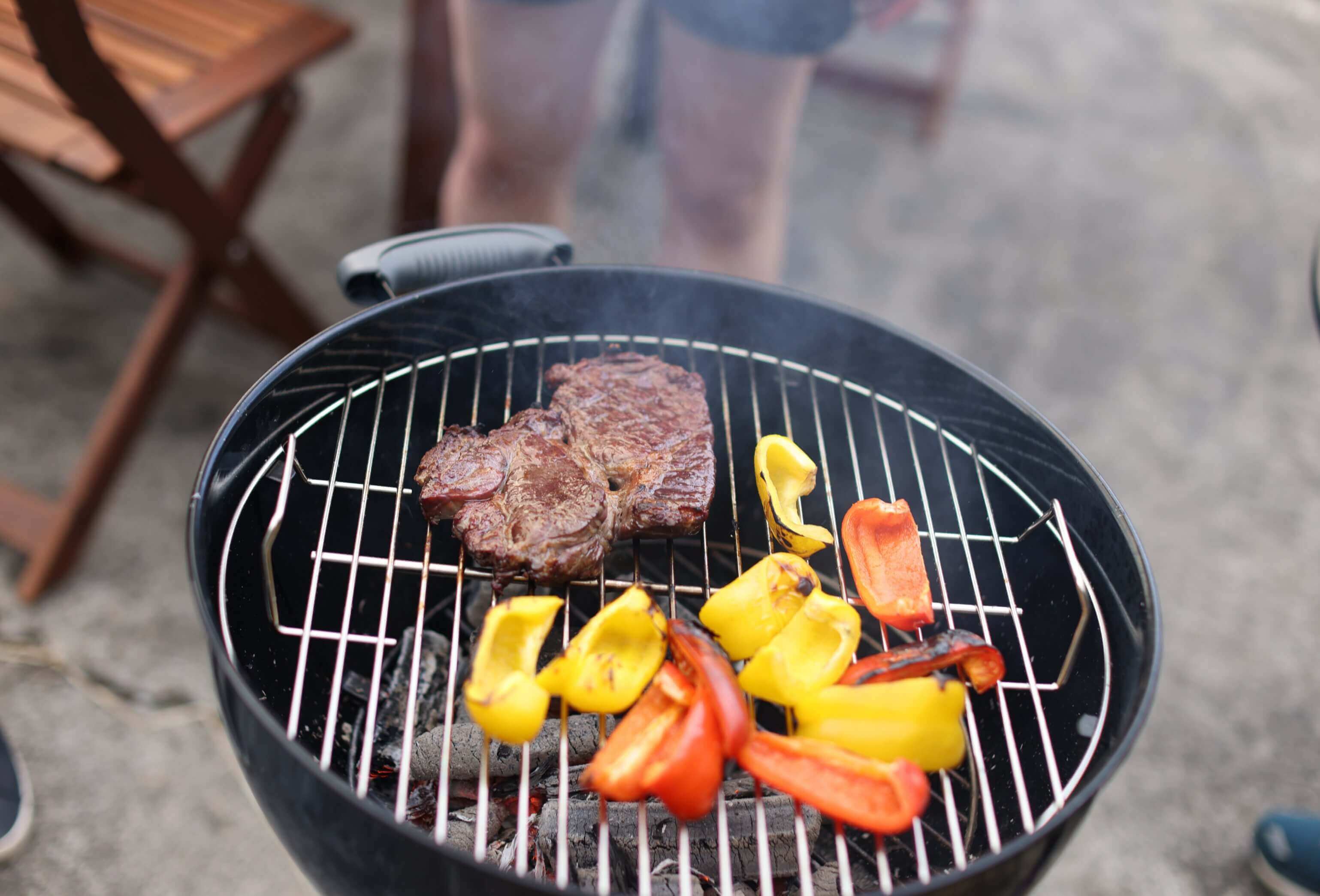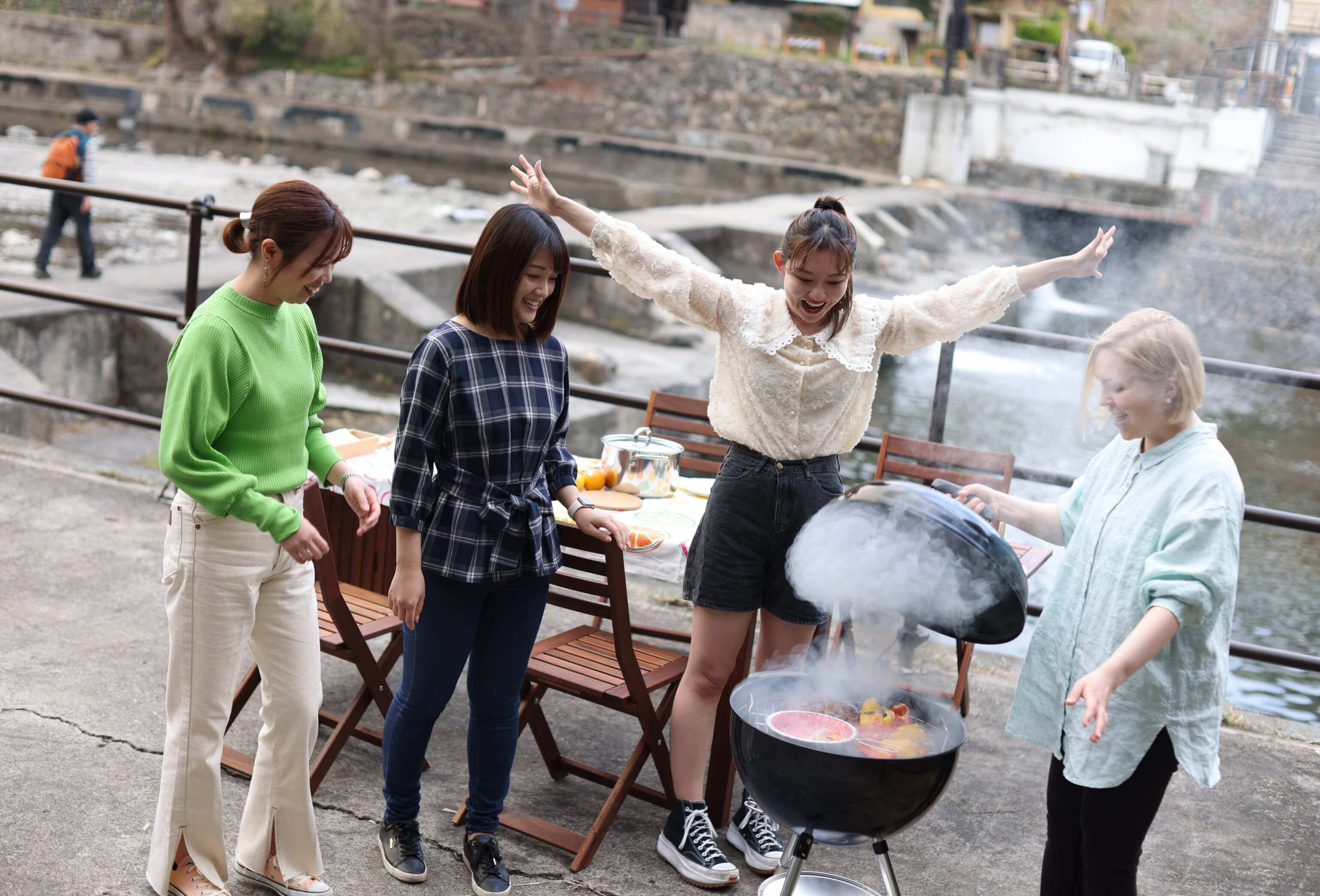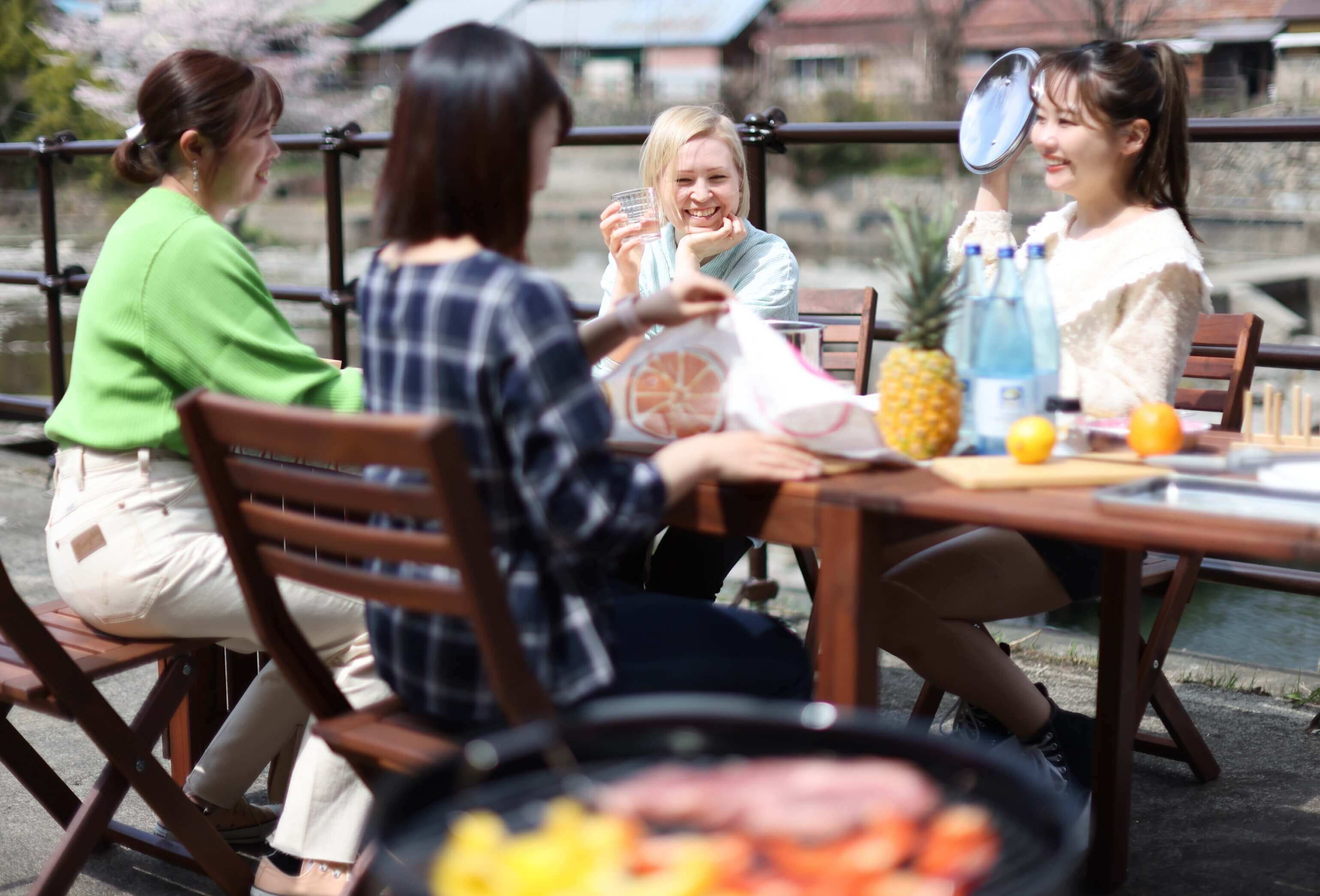 BBQ
RIVER
HYGGE

About River Ranta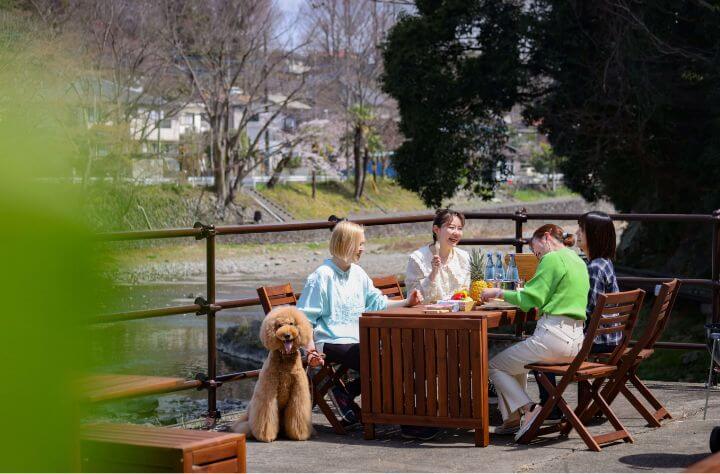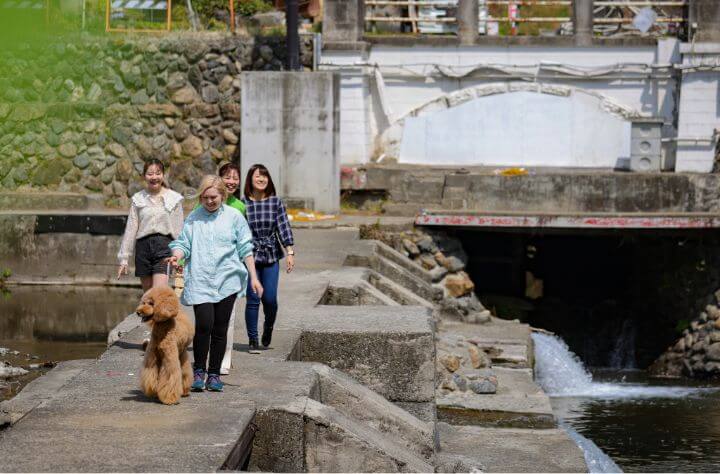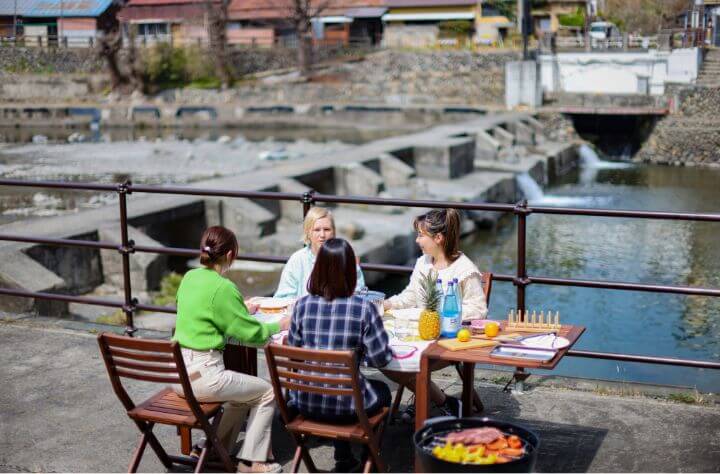 |
HANNO
RIVER
01
1 hour from the city center
Hanno Riverbank, the sanctuary of Kawahara BBQ
BBQ site dedicated to bringing in ingredients
The source of the Iruma River is Hanno City.Hanno Riverbank is a sacred place for riverbank BBQ where you can enjoy river play in the summer as a "clear stream" of the Iruma River.There are also shallow waters where you can feel your feet, so even children can enjoy playing in the water with their parents.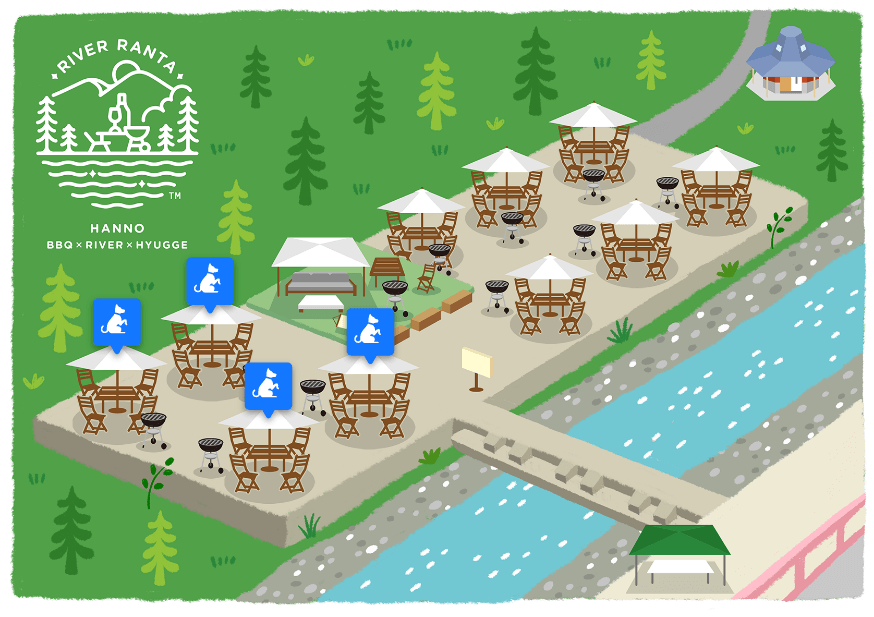 The site is coordinated by IKEA Tachikawa and features outdoor furniture with a simple and functional design that is typical of Scandinavia.The central tent is a shared space that anyone can use.The real pleasure of "RIVER RANTA Hanno" is that you can interact with each other using the rich nature and the murmuring of the river as BGM while relaxing on the sofa or bench.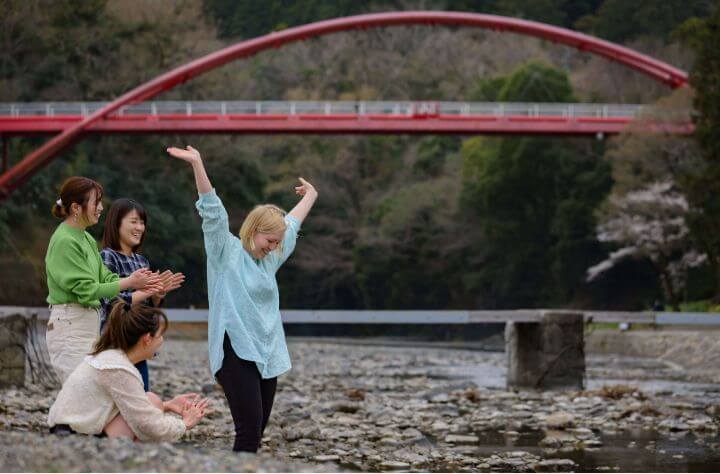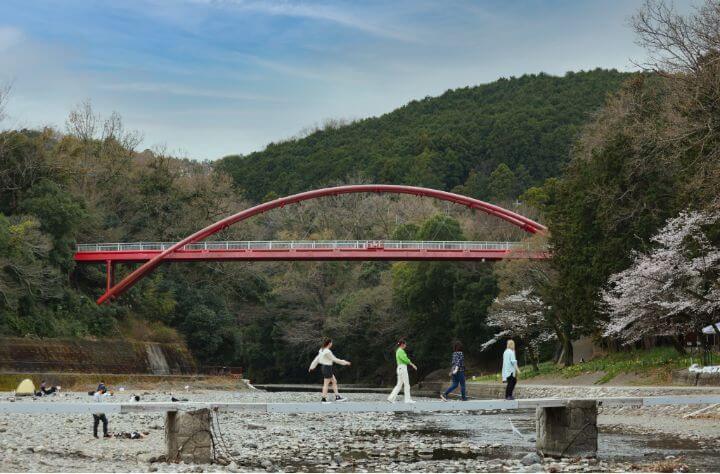 |
ENJOY
THE
RIVER
02
Hanno River
A 15-minute walk from the station, it is a tourist spot in Hanno that is crowded with many people in the summer.The deep green trees and the red Wariiwa Bridge shine, making it a perfect river play spot for memories of a fun summer vacation.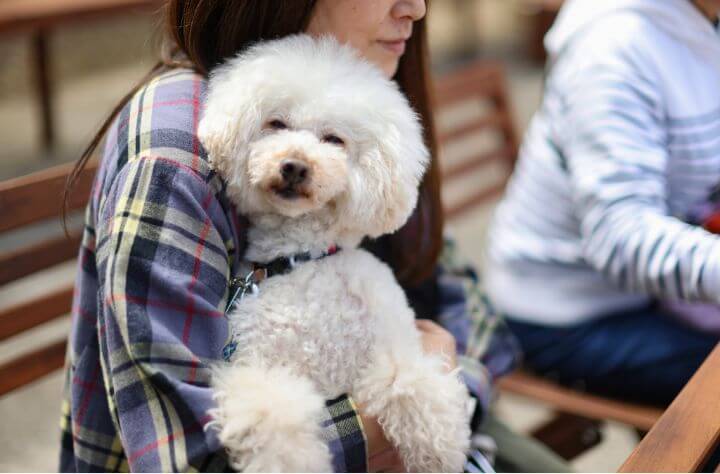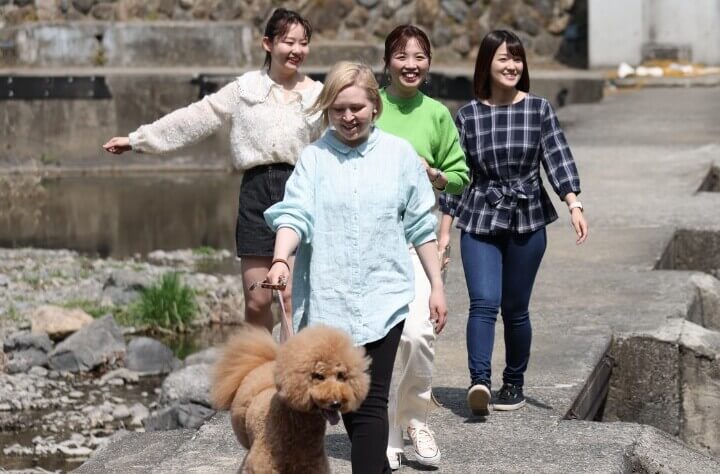 |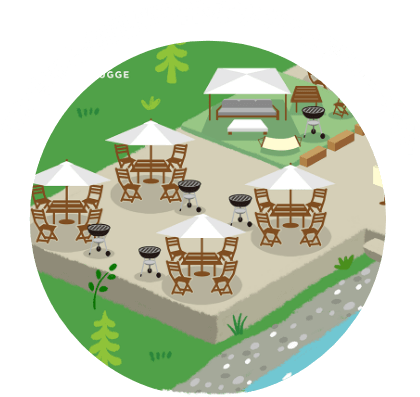 PET
OK
03
With your precious pet
RIVER RANTA Hanno has a site where you can bring your dog, so you can enjoy BBQ and walks with your dog.Please spend a relaxing time in the wilderness surrounded by forests and rivers.
Up to 1 small dogs per site.Up to one medium-sized dog or large-sized dog can be accompanied by him.


Equipment outline
Facility name
RIVER RANTA Hanno
Number of sites
10 sites * 4 of them can be used with you
Maximum number of people available on one site
6 people
Business period
December 2022, 4 (Sat) -April 23, 2022 (Sun)
* We will inform you about the business in 2023 on this site as soon as it is decided.
Business hours
Normal period: 10:30 to 15:00
Busy season: [Part 10] 00:13 to 00:14 [Part 00] 17:00 to XNUMX:XNUMX
View business schedule
Access

Address: 275 Hanno, Hanno City, Saitama Prefecture
Train: About a 15-minute walk from the north exit of Hanno Station on the Seibu Ikebukuro Line
Car: Approximately 20km by car from the Kan-Etsu Expressway "Tsurugashima IC", approximately 10km by car from the Ken-O Expressway "Ome IC"


* There is no private parking lot.Please use public transport or nearby pay parking.
* "River Ranta" is a barbecue area that started operations in 2016 as a demonstration experiment of a project aimed at promoting tourism around the Hanno Riverbank utilizing the riverbed and creating a tourism base.

usage fee
[Advance reservation] Until 13:XNUMX the day before the reservation
6,400 yen / site(tax included)
[Same-day application] Local application
7,400 yen / site(tax included)
* 4 site charge for up to XNUMX people
* Advance reservation 5 yen / person for 1,500 people, same-day application 1,650 yen (tax included) additional charge.Free for preschoolers.
* The maximum number of users is 6 including users and preschoolers.
* You cannot specify the site.
Included in price
Tarp tent

Chair (6 legs)

6-seat table

Bench with storage

BBQ grill

BBQ net

Charcoal, charcoal tongs

Ignition agent

Knife

Bag

Tongs for wood

Eur-lex.europa.eu eur-lex.europa.eu

Colander

bowl

Cooler box

Paper

Made fork

Disposable chopsticks

paper cup

Hand towel

Combustible / non-combustible garbage bag
(45ℓ) 1 each
* Additional charcoal can be purchased separately.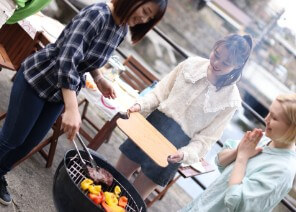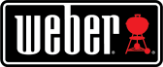 BBQ grill
Use of "Weber" charcoal grill to maximize the richness and texture of food

rental

500 yen (tax included)
ー ッ ト サ ン ド ド メ ー カ ー

300 yen (tax included)
Side seat (for tarp)

Products for sale
alcohol
COMING SOON
000 yen
COMING SOON
000 yen
COMING SOON
000 yen
Soft drinks and ice cream
PET bottle (500ml)
150 yen (tax included)
Rock ice (2kg)
500 yen (tax included)
Ice cream
150 yen (tax included)
Tableware
Disposable chopsticks (4)
50 yen (tax included)
Paper cups (4 pieces)
100 yen (tax included)
Paper plate (4 sheets)
200 yen (tax included)
BBQ aluminum plate
(Depth 5.5 cm x Width 26 cm x Length 19 cm)
600 yen (tax included)
Disposable forks (4)
100 yen (tax included)
Paper towel (4 sheets)
100 yen (tax included)
Others
Charcoal (Oga charcoal) 1kg
300 yen (tax included)
Garbage disposal agency
Combustible garbage (45L)
Non-burnable garbage (45L)
Cans, bottles, PET bottles (30L)
500 yen each (tax included)
To visitors
Notices and requests
In order to prevent infection and spread of the new coronavirus, we are taking the following measures and requesting the cooperation of all visitors.
* Contents may change depending on the future situation.
Requests to visitors
Please try to prevent infection by yourself, such as washing your hands and wearing a mask.
If you have a cold-like symptom, please refrain from entering the venue.
Those who have a fever of 37.5 degrees or higher will be refused admission.
Please check your physical condition on the day before entering the venue.
If you feel sick or feel unwell during the entrance, please do not overdo it and contact the staff near you as soon as possible.
Even if you cannot use the above contents, the cancellation policy will be the same as usual.
Efforts to prevent the spread of infection
Daily physical condition management before employees go to work
Employees wear masks and regularly wash their hands and thoroughly disinfect
More frequent disinfection and hygiene management than usual for places with frequent contact such as tables
Installation of splash prevention guards on checkout counters, etc.
The distance between tables that maintain social distance is 2 m or more, and the location of the site
Usage restrictions
Boryokudan officials and other similar groups
Those with tattoos (including tattoos, tattoos, and paint)
Acts that disturb order and morals
Acts that cause trouble to other customers
Those who cannot follow the terms of use and the instructions of our staff
Those who are drunk or disturbed
Those who have a history of use and have trouble
The above people will not be refunded even after the usage fee has been collected.In addition, you will be asked to leave.
No smoking inside the site
Please refrain from bringing in BBQ equipment
No use of music or musical instruments
Site decision / equipment installation
We will leave it to you.Please refrain from changing the plan on the day.
Cancellation Policy
13% cancellation fee will be charged from 00:100 on the day before the reservation date.
In case of cancellation, please be sure to contact us by e-mail at the inquiry window.
riverranta@moomin-monogatari.co.jp
If we determine that it is not possible due to a typhoon or stormy weather, there is no cancellation fee.
It may not be open depending on the flooding of the river and the weather on the day.In that case, we will promptly contact you by phone or email.